Hello readers and first of all, sorry for the long hiatus. For the new readers hello and welcome to my beauty blog. To start the new year I have decided to look back for a moment at 2014 and share some of those moments with you in pictures.
A new hair cut- I want to start with May 2014 when I decided to cut all my hair off. Although I was on a hair journey for longerand healthier hair I remembered that I have always wanted to see myself with short hair and I finally decided to cut it all off. I did it all by myself and still I have no regret at all (more about it HERE)
A new job
- While I was looking for a new position in London I ended up coming back to Paris because of a new opportunity. I have some friends in Paris so I reconnected with them, had great nights out and enjoyed the summer in Paris. Well when it was sunny... (complete outfit
HERE)
A new country a new city-
This new job was not only a good way to reconnect with Paris but also an opportunity to get a new work experience abroad. And this time it was in a very unexpected city and country: Chennai in South India.
By the way I work in investment banking if you were wondering.
Discovering a new city, a new contry, new food, a new culture, a new lifestyle- I do plan on doing different posts about Chennai in the future so I won't develop more here; just know that I have really enjoyed this country.

Back to Paris- I have been back to Paris for a month now and my schedule was pretty busy which explain my hiatus. I went back to work directly; I had only 4 days to get a dress for my uncle's wedding (post on the outfiti coming soon). I probably should have taken some time off to rest but I did not. I went from 30°c to 3 °c in one day when I left India for Paris. Although I enjoyed Chennai I spent 2.5 months there mostly working with no friends and family around so I wanted to enjoy every moment back to France ...
...and of course what should have happenned happenned...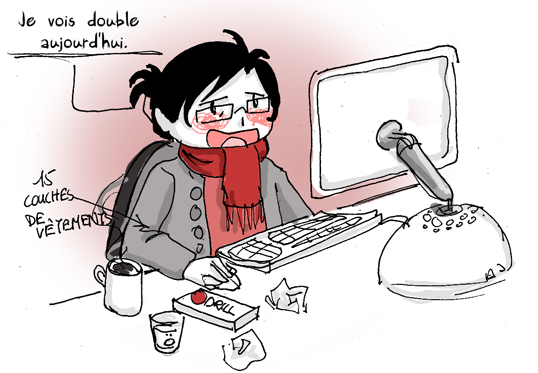 Paris is the place where I work but my hometown is in South of France so I could not wait to go back there for Christmas. Paris was very cold, the sky was grey and I was very sick; but in my city the sky is "always" blue. Not a light blue, not a grey blue, not blue with clouds; just blue.
Us

ually I do not make resolution for the new year but this year I have to make one. I really want to get more organised in order to update this blog more frequently. I have always talked about fashion, skincare, makeup with my friends with my family members with people working in stores with strangers, on other blogs; so it was just logical for me to start my own blog but to stay true to this logic I also have to be more consistent. So that's my challenge for 2015.
I want to say thank you to those who follow me or to those who just happenned to came accross my blog. I wish you all the best and a very Happy new year !!!!!